Découpage caleidoscopique en Fa minore: extraits de mon journal.
Edit
Antes llamado OpenBeOS, es un proyecto de código abierto que busca recrear el sistema operativo BeOS.
Haru to Shura.
Je dors, je rêve.
Sous moi le monde change.
Je deviens en chaos.

thumb|228px|right|Sa chatte preta me vuelve loca.
Is a genre of Japanese collaborative poetry. El renga consiste en el encadenamiento de un tanka por un grupo de autores. Mi renga consiste en el encamamiento de un grupo de autores [03:59 p.m.] cristalizado en un tanka.
Pisa
Me llena de amor
la flecha de Cupido.
Colibrí en miel.
Que se nutre del néctar
de la savia de tu piel.
Deux et deux font cinq.
Edit
Un robot qui raconte la vie du célébre Allais : "Polytipie", nous dit, "moi je suis un type du genre de Balzac"... et sa voix se mélange avec l'homme.
'Patafísica.
Edit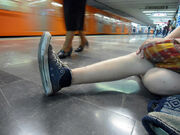 Un personaje que, para conocer mejor a la gente, les pide lamer su ojo.
Y cuando terminó de escribir la oración, se echó al vacío del punto.
Un día, una no-ola de existencia, {des}aparecida de repente, se fundió con Nadie. *taconazo zandunguero*